Which special moment would you use to create a star map?
At Craft Oak, we specialize in allowing people to create their own star maps that show you where the stars, planets, and other celestial bodies were in the sky at any given location and time.
Our customer's design star maps for a multitude of different reasons; to celebrate a birthday, immortalize the day you met your significant other or tied the knot. Star maps are incredibly versatile so any day can be found.
Star maps are also great for gifts on special days like mothers day, graduation, birthdays, or an anniversary. We see a very large set of reasons why people make star maps.
With that said, it's very easy to create your own star map and so we've made a little guide to help you do this.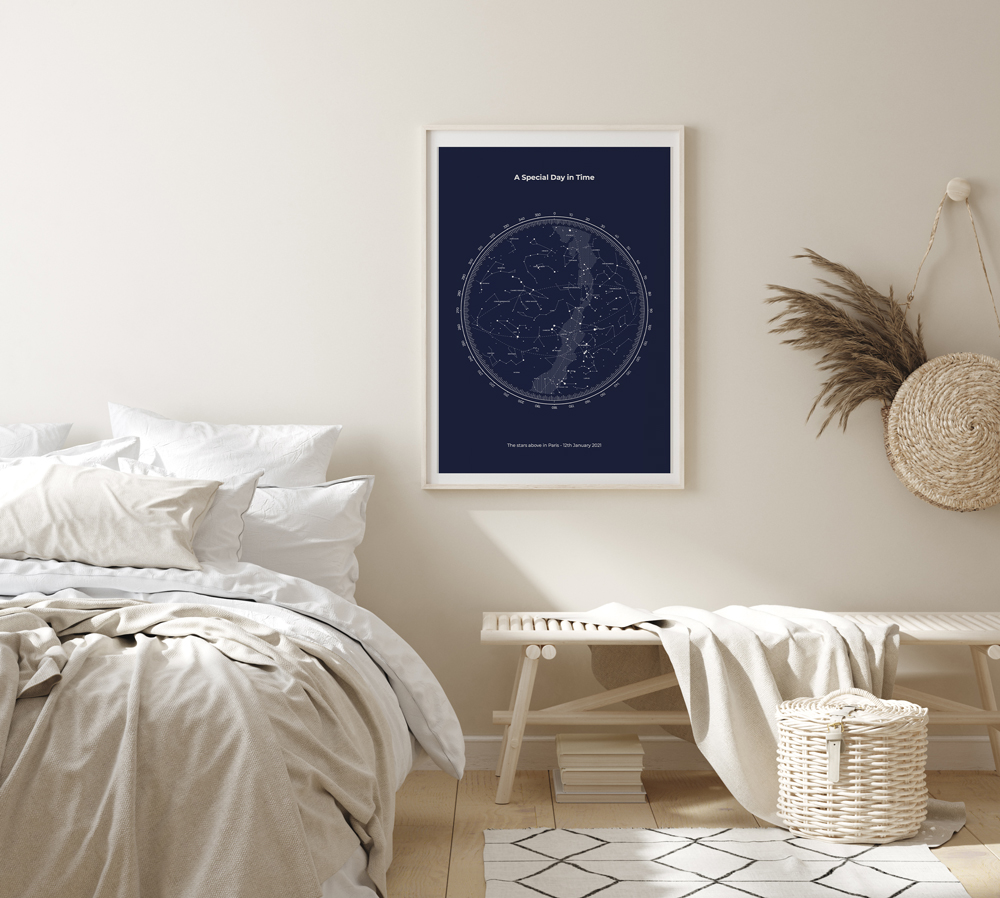 Step 1: Find the location
Start off by typing in the place where your special day happened and then enter in the time and date. The results are pretty much instantaneous and you'll see the stars as they would have been had you looked up into the sky that day.
Step 2: Design it
In our star map editor, we have a large array of different combinations of colors, layouts, places where you can add text, and different elements you can put into the star map. Have a play with these and figure out what works for you.
Keep in mind the room in which this map might be hung in and choose colors and a style that works best. Our maps can be extremely colorful with a lot of information or paired right back to something very minimalist. There is no wrong or right way to do it!
Step 3: Write a meaningful title
This is no doubt an important part. Here is where you add a special message for yourself of the loved one to who you intend to give the map to. It can be cryptic and in a smaller text if you like your privacy, or in a large font and loud. We've got a cool guide on star map titles here.
Step 4: Pdf vs Print
A Craft Oak we are the only company in our industry that allows users to download a PDF of their maps and print themselves. This is particularly handy for countries that have difficulty in receiving packages and in some cases people would prefer to use their own printer and potentially save money. However, if you order your print from us you can be sure that great inks and paper will be used ensuring that your star map will last a long long time.
Step 5: Enjoy your map
Once you've ordered your map and it's been delivered safely, time to enjoy it! Star maps are a fantastic piece of decoration and as mentioned above an incredible and thoughtful gift.
If you love your star map do send us a picture to [email protected] or tag us on Instagram with @craftoak - We love seeing what our map community comes up with and will be happy to share it with everyone else.
We hope this star map creation guide was helpful and that you are in the middle of creating your own special masterpiece.
Enter custom10 into the checkout to receive a 10% discount on your next map print and as always, if you have any questions, just reach out to us at [email protected]
Thanks!